DEDICATION

We, the members of V. F. W. Post 9488, dedicate this post to the memory of a lost comrade, Second Lieutenant Owen R. Graham. Born in Winchester, Lieutenant Graham attended the Winchester Elementary School, Perris Union High School, Riverside Junior College, and was graduated from the University of Redlands.

Lieutenant Graham, of the 19th Bombardment Group, Air Corps, U. S. Army, was among 1775 American prisoners of war aboard a Japanese vessel sunk by submarine action June 16, 1944. Enlisting during 1939, he went overseas for the first time in 1940.

In October-November 1941, when the title of battle was running against the United States and her allies, Lieutenant Graham participated in the first massed flight of B- 17's from Albuquerque, N.M.,  to Clark, Field, Pampanga, Luzon, Philippine Islands. He was cited for his part in the action, which "Proved to have direct bearing upon the security of the United States." The flight was successful ". . . despite adverse weather, small airdromes, inadequate radio aids and long over water distances with no alternate landing fields . . ."

Lieutenant Graham was taken Prisoner in April, 1942.  Two ears later he was transferred to the ill-fated ship on which he lost his life.

CHARTER MEMBERS

OWEN GRAHAM POST

No. 9488 V.F.W.

BRICKER, W. E.

BROWN, BASIL

BURRELL, JOHN

CRYER,JOE

DASCHNER, CLARENCE

FONTANA, TONY E.

GATES, LAWRANCE

HOLLAND, RICHARD

HONBERGER, HOWARD

HONBERGER,JACK

INCHAUSTI, JOHN

ISETT, WALTER

JOHNSON, EMIL

JOHNSON, VICTOR JR.

KIRKPATRICK, L. M. JR.

McCALL, FLOYD

McCALL, LLOYD

POURROY, RONALD

RICE, DEAN

RICE, GENE

SCHAIN, ROBERT

STEEN, HUBERT

STEEN, JAMES

WALKER, J. A.

WALKER, MARVIN

WESTLAKE, DUDLEY

YOUNG,KENNETH

ZEIDERS, LESLIE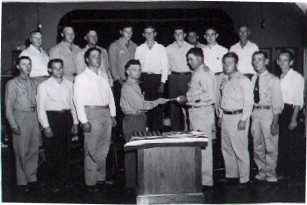 CHARTER MEMBERS

LADIES AUXILIARY

POST 9488 V.F.W.

BRICKER, IRIS

BURRELL, BEVERLY

CRYER, JEAN

DOMENIGONI, RUTH

HOLLAND, JO LEE

HONBERGER, BETTY

ISETT, IVA

JOHNSON, SADIE

McCALL, EVELYN

McCALL, JOSEPHINE

RICE, DORIS

STEEN, ELFREDA

STEEN, PATRICIA

WALKER, ZELMA

WESTLAKE, CONNIE

YOUNG, JULIA

ZEIDERS, MAY


Click on the flag to see more of the Veterans of Foreign Wars

OFFICERS OWEN GRAHAM POST 9488 V.F.W.

COMMANDER                                     KENNETH YOUNG

1ST VICE-COMMANDER                       LLOYD McCALL

JR. VICE-COMMANDER                 DUDLEY WESTLAKE

CHAPLAIN                                              ROBERT SCHAIN

Q. M. ADJUTANT                                     FLOYD McCALL

JUDGE ADVOCATE                                  JOHN BURRELL

SURGEON                                           JACK HONBERGER

GUARD

                                                      GENE RICE
TRUSTEE                                           

       JOE CRYER
TRUSTEE                                             LAWRENCE GATES

TRUSTEE                                               MARVIN WALKER

OFFICER OF THE DAY                   RICHARD HOLLAND

WAYS AND MEANS CHAIRMAN          JOHN BURRELL

PUBLICITY OFFICER                      J. A. (DOC) WALKER

LEGISLATIVE OFFICER                          LESLIE ZEIDERS

SERVICE OFFICER                                     W. E BRICKER